Main content starts here, tab to start navigating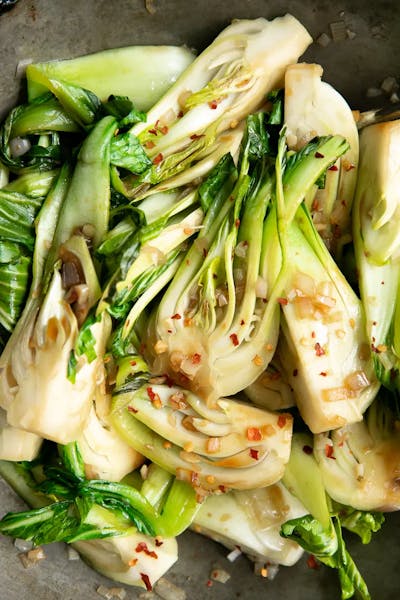 Garlic Chili Bok Choy
Ingredients in this Garlic Bok Choy Recipe:
Oil
Garlic
Shallots
Worden Farm baby bok choy
Soy sauce
Sesame oil
Crushed red pepper (optional)
We want to keep our baby bok choy somewhat intact, so the first thing we want to do is either halve or quarter each stalk and wash under cold running water.
Heat a large skillet or wok over medium-high heat and add the oil. Swirl to coat the entire surface of the pan. As soon as the oil is hot, add the garlic and the shallots, and sautè for 1-2 minutes, stirring continuously.
Add the bok choy, soy sauce, and sesame oil. Toss and cover. Cook for approximately 2 minutes before uncovering, tossing, and covering. Continue to cook the bok choy until white parts reach desired doneness
Optional: Sprinkle with crushed red pepper and drizzle with sesame oil
What to serve with bok choy:
It's easy and goes with just about everything. Add some chicken or shrimp for a low carb, high protein meal.
Serve with steak and a side of rice.
Add onions, carrots, bell pepper, and broccoli for a veggie-packed stir-fry the whole family will love.
Toss with ramen and drizzle with chili sauce for a meal guaranteed to taste better than take-out.