Main content starts here, tab to start navigating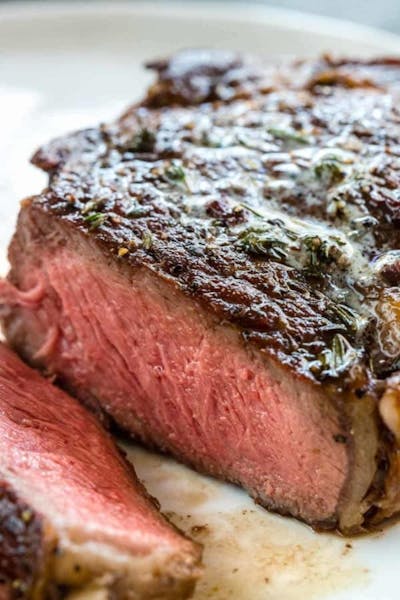 Perfect Pan-Seared Sirloin Steak
INGREDIENTS
1 sirloin steak
Sea salt, to taste
Freshly ground black pepper, to taste
1 tablespoon unsalted butter
1 tablespoon olive oil (not extra virgin) or other neutral vegetable oil
INSTRUCTIONS
Pat the steak dry with paper towels. Season both sides with salt and let stand at room temperature, 30 minutes to 1 hour, Press the pepper into the steak to adhere.
In a large skillet, melt butter with the oil over medium-high heat. When the butter foam subsides, add the steak. Sear until a brown crust forms, about 2 minutes per side. Use strong tongs to press the edge of the steak into the pan, rolling and cooking edges until the fat is rendered.
Return steak to pan flat-side down, reduce heat to medium, and cook until the desired degree of doneness, about 3–3½ minutes for medium-rare. Cooking time will vary based on steak thickness.